"Burnett captures the haunting Misty Mornings of the Isle of Springs, and the private Jamming and cloudy studio wizardry of its musical magicians. We see intimate portraits of Burning Spear; the Bush Doctor, Peter Tosh; the irrepressible producers Jack Ruby and Lee 'Scratch' Perry; and most impressively, the Prophet Bob Marley, deep in thought and serious as a heart attack, in the process of creating and sharing his immortal Redemption Songs"

— Roger Steffens, Chairman, Reggae Grammy Committee;
founder, The Beat magazine; author of Reggae Scrapbook
All Images and Text © David Burnett
EXCERPTED FROM THE BOOK:
Part One: Ocho Rios
In 1976, I had been working for Time magazine for about eight years. I had a good relationship with the picture editors there, and they would occasionally call me for some interesting stories. David DeVoss, a reporter who lived in L.A., was the Time Hollywood correspondent, and he was plugged in to the music business as well as the film business. When Island Records decided to invite some mainstream publications in, he was the guy Time went to and I joined him in Ocho Rios, Jamaica. Island Records was holding the hands of half a dozen journalists trying to explain to them a little bit about reggae music and who the players were.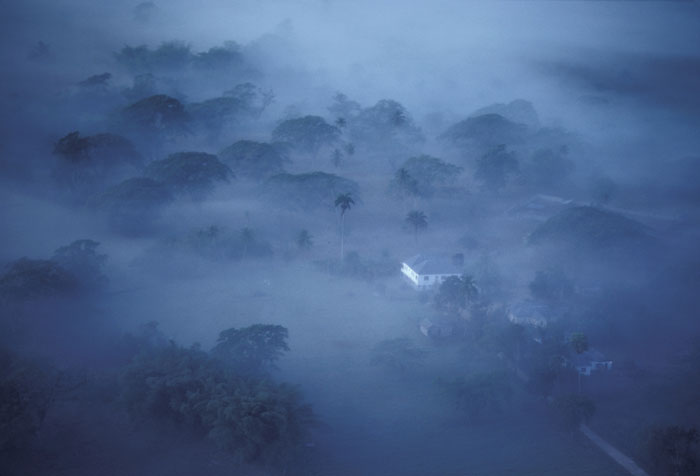 Ocho Rios, Jamaica. March 1976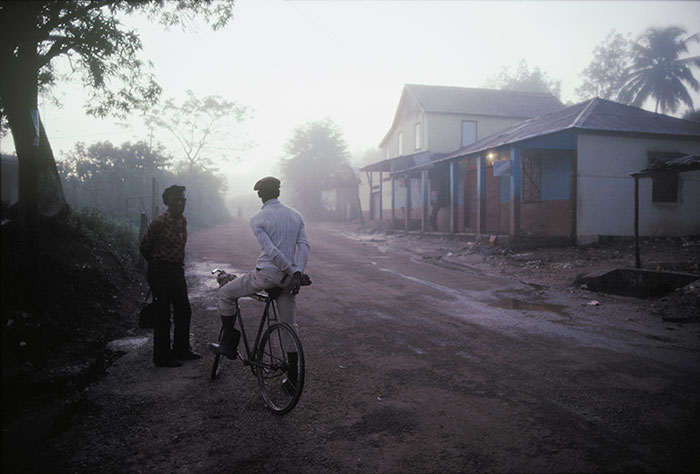 Ocho Rios, Jamaica. March 1976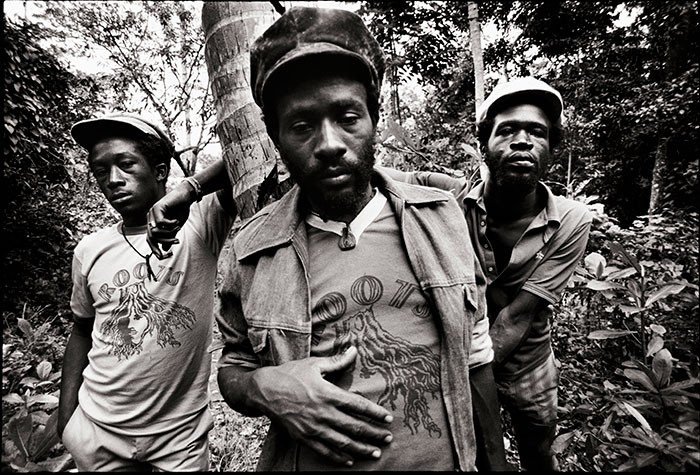 Burning Spear. Ocho Rios, Jamaica. March 1976
After a few days in Ocho Rios, we decided to go to Kingston. We wanted to see Bob and hang around for a couple of days, and try to get a sense of what the place was like and what the politics were that gave rise to the music we were hearing. The first time I went into Trench Town, I started to get an idea of why they were writing the music. It was pretty bad: rough and very intimidating. There were two political parties, the People's National Party (PNP) headed by Michael Manley, who was at that time the Prime Minister of Jamaica. Then there was the head of the opposition, Edward Seaga of the Jamaica Labour Party (JLP). Things were very clearly defined. If you were PNP, you didn't drive into a JLP area and vice versa. Things got really nasty. There were a lot of shootings. Politics was a form of blood sport in Jamaica.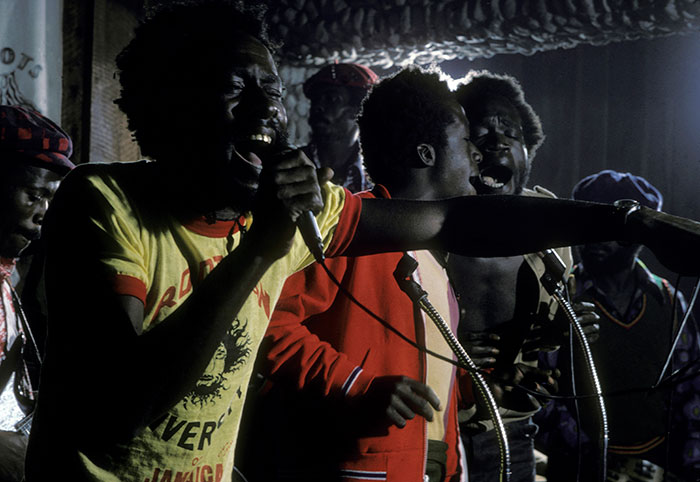 Burning Spear. Ocho Rios, Jamaica. March 1976
Part Two: Kingston
In Kingston, we went to some record stores, and then hung out that afternoon at a recording studio, the same time, as it turned out, that Burning Spear was recording there. That was pretty cool. Randy's Record Store was the name of the place, and I think the studio was attached to it. It was owned by Randy Chin, who was from a Chinese-Jamaican family. I went in there, and these guys were trying to put it together to make a song. There's one really good photo of everybody gathered around the piano, and one guy just kind of laid out on the bench with a spliff in his hands. We heard them harmonizing and doing their thing. It was like watching a song being born.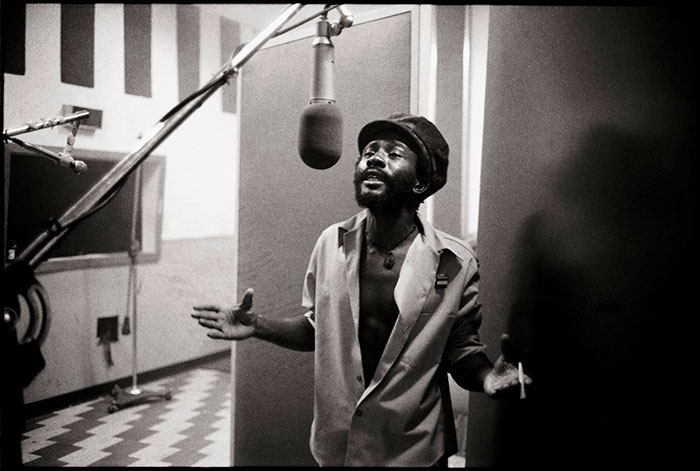 A member of Burning Spear during a recording session. Kingston, Jamaica. March 1976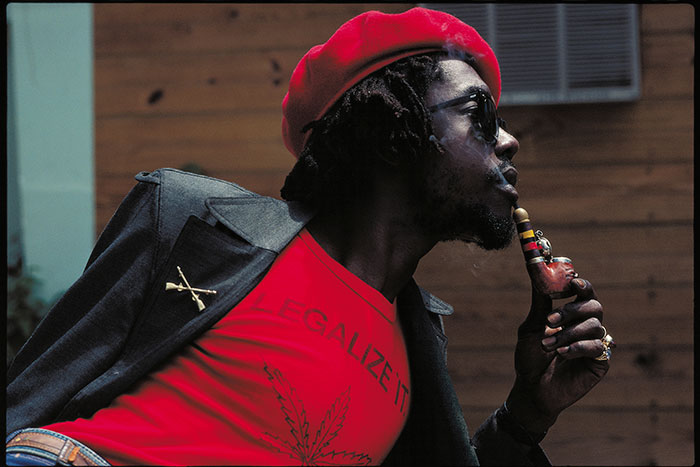 Peter Tosh. Kingston, Jamaica. March 1976
After we left the recording studio, David and I went to see Peter Tosh. David had an interview with him for about 30 to 40 minutes, and then I had maybe 20 minutes to shoot pictures. Peter Tosh was a cool dude. The thing is, with all of these guys, there was no namby-pambying around. They knew what they wanted, they knew what I wanted to do, they knew what their capabilities were, and they just didn't want any bullshit. They just wanted to get down to it. They could be running occasionally on Caribbean time, which meant a rendezvous could start late, but that's something you just got used to. They were all pretty forthright. "Legalize it and I'll advertise it." Peter Tosh was very right there with it. He was trying to get people to legalize it.
After photographing Tosh, we went to see the producer Lee "Scratch" Perry. He was a wild and crazy guy, and I mean that in a good sense. He was not on the same charts I was on. He understood the music and where it was coming from and what it represented for society. He was a one-man operation, trying to help people create music and churn it out there.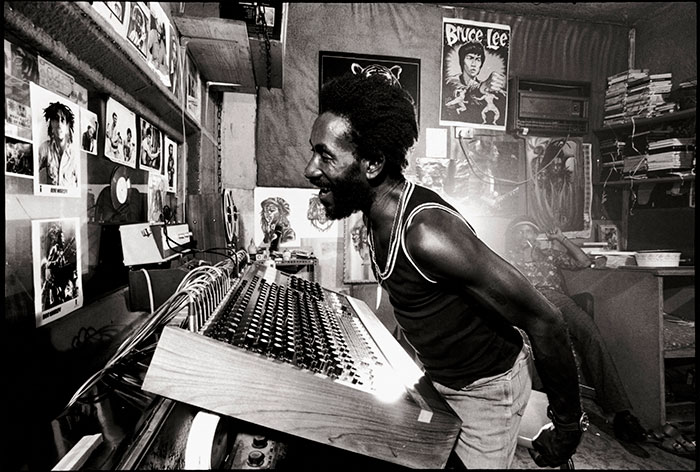 Lee "Scratch" Perry at his studio. Kingston, Jamaica. March 1976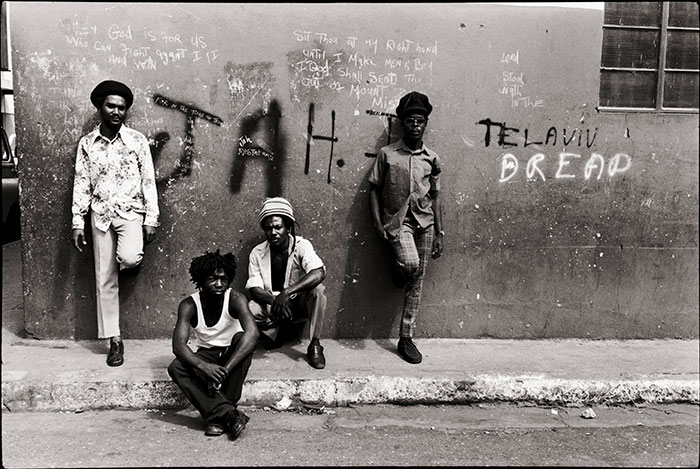 Hanging out in Trench Town. Kingston, Jamaica. March 1976
Part Three: Tuff Gong
Our assignment was about reggae, and Bob Marley was THE man. We had secured an interview with Bob. The interview was arranged by people from Island Records, and we were told to show up at a certain time in the early afternoon. We spent several hours there. Bob couldn't have been more charming and open and just willing to engage—the dialogue of "reasoning." I mean, we were just talking it through.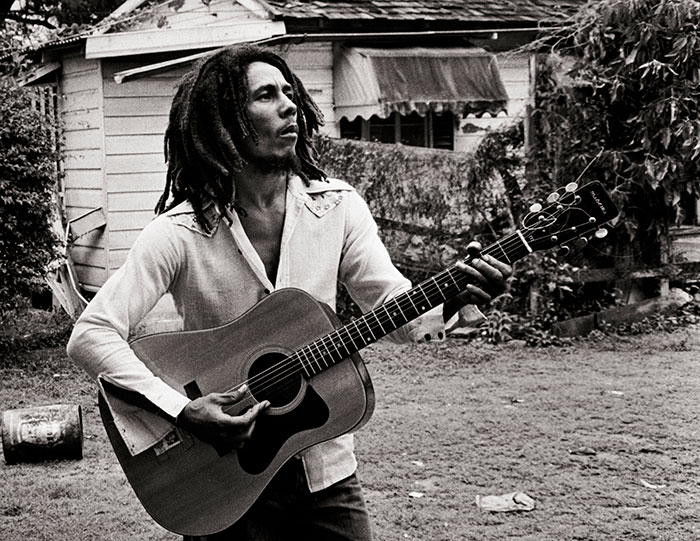 Bob Marley at home (Tuff Gong) in Kingston, Jamaica. March 1976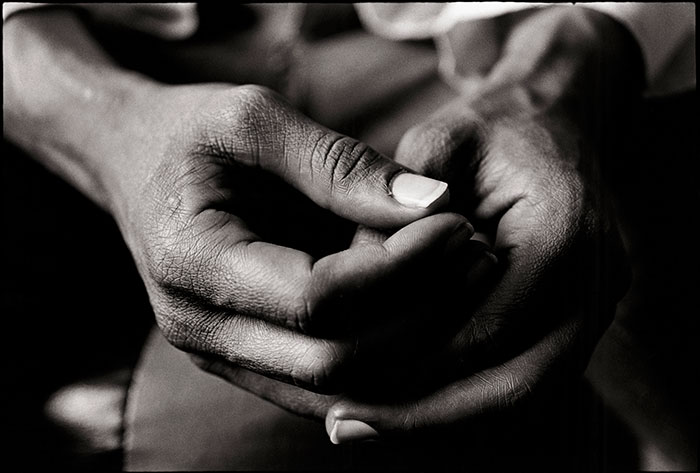 Bob Marley's hands (Tuff Gong) in Kingston, Jamaica. March 1976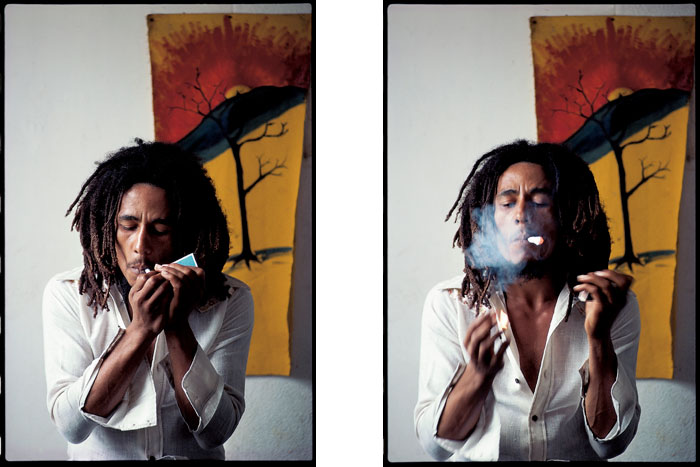 Bob Marley at home (Tuff Gong) in Kingston, Jamaica. March 1976
Bob's home was a compound. There was a big, old colonial house and a few smaller buildings, a beautiful place. DeVoss and I went in and walked around a bit. When we sat down for the interview, it was in a room upstairs. It's funny because today you would say, well, I've got to go and bring in my lights, tripod, etc. But this was just walk in and there's the window, and Bob sits down, and there was just enough window light to take pictures.
We sat on the floor and just started talking. David turned on his tape recorder, and we were there with Bob for well over an hour. David was one of these guys who had reported from 25 or 30 countries and was wounded in Vietnam when he was a Time correspondent during the war. He had become one of Time's Hollywood correspondents, mostly doing film and music.
It was a very soft conversation, with all kinds of very interesting topics. Bob talked about the Rastafarian movement and what the role of ganja was in that movement. He talked about music and expression and how that relates to the life that he had growing up, and what Jamaica is about now. Bob was a very smart guy. When he said something, there was always weight behind it. It wasn't just sort of thrown off because it's an interview, let's get it over with. It was a very engaging time while we were there, a very wide-ranging interview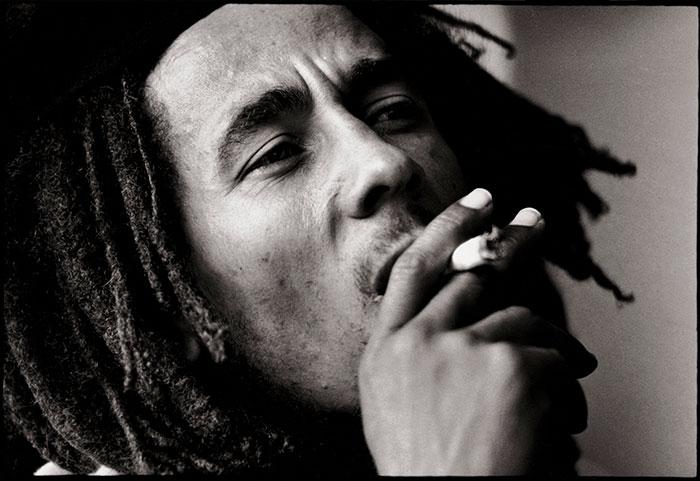 Bob Marley at home (Tuff Gong) in Kingston, Jamaica. March 1976

Part Four: Exodus Tour
About a year later, I was in Paris and a call came to join Bob Marley and The Wailers on a road trip for a few days during the Exodus tour for Rolling Stone. That seemed like a great idea to me! By then I knew that these guys were a pretty big deal. I jumped at the opportunity when I got the call to go do the story. I was living in Paris from about February to August of '77, crashing at a friend's apartment. Looking back on it, I must say my friend was very understanding about having somebody sleep in his living room for that long. I was there six months. I also was gone a lot but still, it was a big favor. It put me in a place where an opportunity like this one with Bob Marley and The Wailers for Rolling Stone could happen.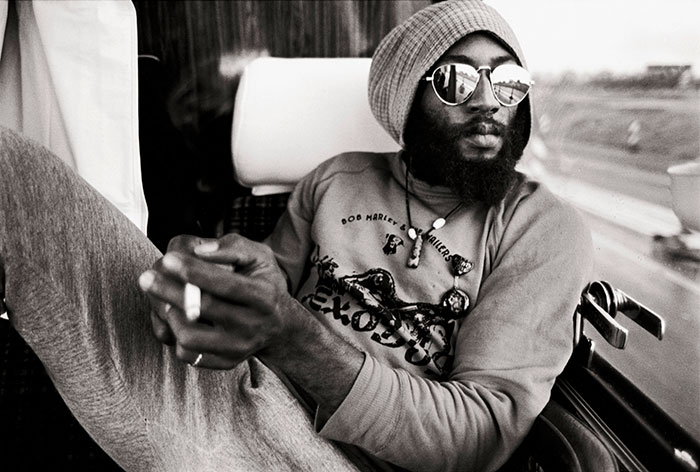 Road Manager Tony "Gilly" Gilbert. May 11, 1977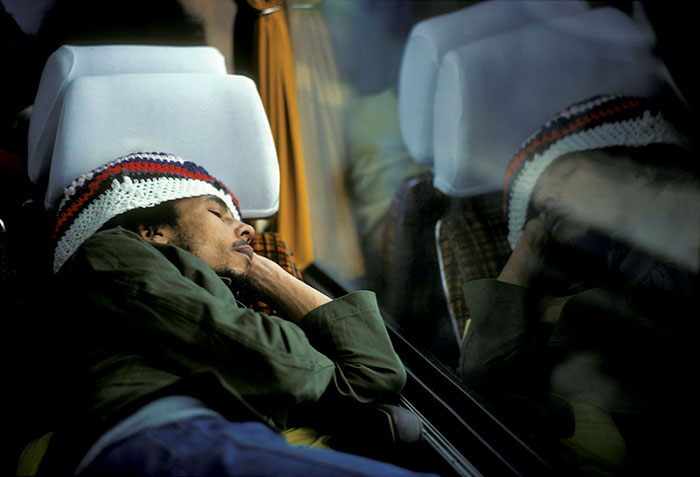 Bob Marley and The Wailers on their tour bus during their Exodus Tour in Europe. May 11, 1977
Our itinerary included Amsterdam, Brussels, and Paris. It was really cool when they did their sound checks. Everyone in the band was up on the stage and there was no sound other than their playing music while I'm shooting my pictures. And you knew that in six hours there were going to be 30,000 kids down there, but right now there are just six people.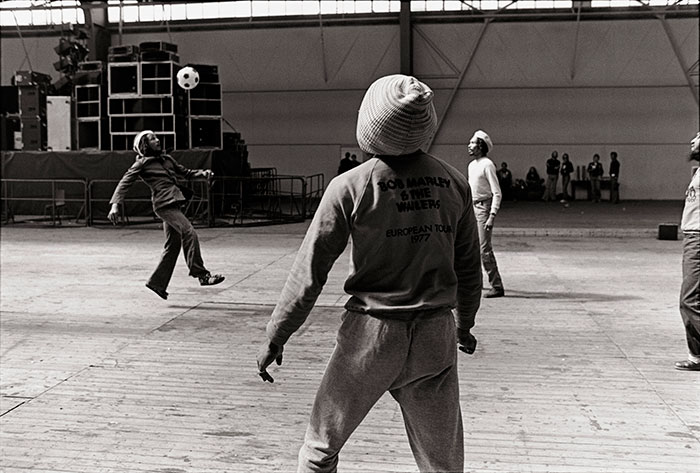 Bob Marley and the Wailers play soccer at a stadium in Brussels, during the Exodus Tour. Belgium, May 1977
Somebody always had a soccer ball, and if there was a lull in the action, man, they'd just be kicking that ball around, and that was the way they enjoyed hanging out.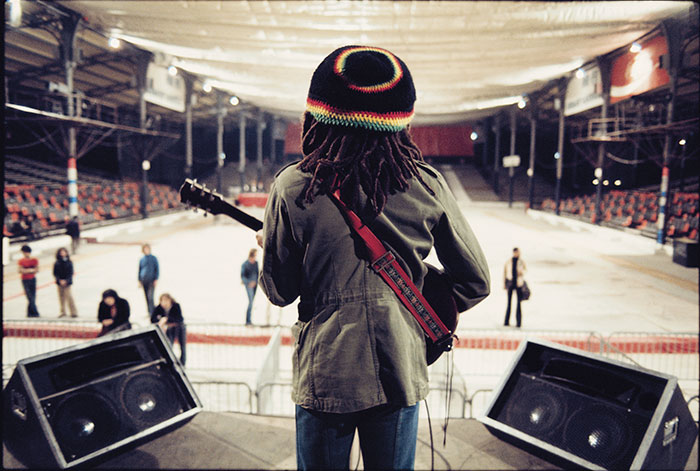 Bob Marley during sound check in Paris, during the Exodus Tour. France, May 10, 1977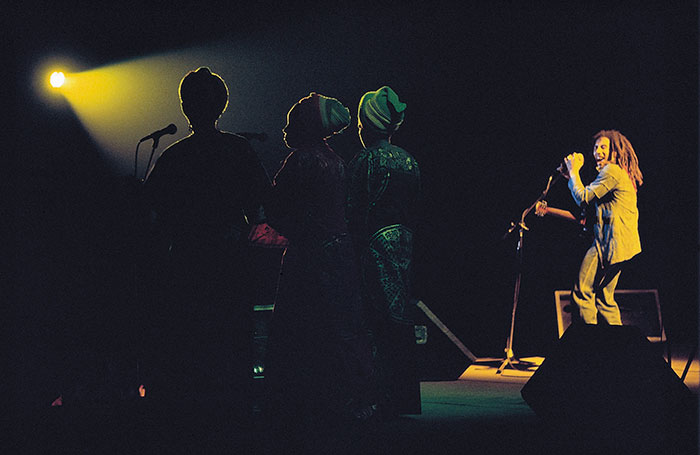 Bob Marley and The Wailers in Paris, France on their Exodus Tour in Europe. May 10, 1977

Bob Marley and The Wailers in Brussels, Belgium, on their Exodus Tour in Europe. May 11, 1977